It has been said that sitting is the new smoking. It has been linked to an increased risk of diabetes, cardiovascular disease, and early death. But with most of us logging hours at desk jobs (and recovering from hard workouts with Netflix binges), can it really be that bad?
Yes, indeed!!
When you are in an improper, slouched, or seated posture for extended periods of time, there are physiological changes in the body. In addition to the proven disease risks, things start to lock up. Tissues can weaken and the effects can be degenerative.
It is similar to the idea of time spent in a cast: when muscle tissue is continually immobile, it shortens and shrinks over time and weakens.
Movement brings hydration and nutrients to the tissue and activity keeps it healthy, so even though our jobs and evolving mobile technologies are making us more prone to sit and press buttons, we need to think actively and sit actively.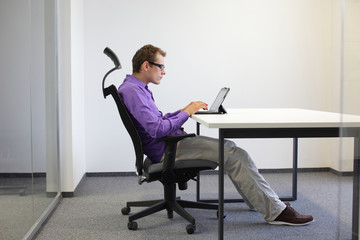 In other words, don't just get up for breaks, but rather do things that will keep your tissues mobile and fluid throughout your day and life. Spending 8+ hours at your desk doesn't have to ruin your body.
Add these five daily movements to your routine:
Roll your feet: Feet can really stiffen up when you sit for long periods. Take a couple breaks during your day and roll each foot on a massage ball or small frozen water bottle.
Do some wall squats: Sit with your shoulder blades and lower back against a wall, hips and knees at a 90-degree angle. Hold for a minute, then return to a standing position, and do 3 reps.
Stretch into a lunge: Constant sitting shortens the hip flexors, so you need to stretch the musculature of the hips and quads. Step your left leg for-ward into a 90-degree lunge, allowing the right knee to hover over the ground behind you. Then switch legs. Try to work this in 3-4 times a day.
Reverse your rotation: During prolonged sitting, we tend to collapse inward, rounding our shoulders and jutting our necks out and forward. To reverse this, move to the edge of your chair and sit on your tailbone. Leaving your arms at your sides, open your chest and rotate your hands out, letting your shoulders move back. At the same time, widen your hips by rotating your feet out. Hold for 10 seconds and repeat 10 times.
Extend your back: Stand and place the palms of your hands at your lower back to lock out your lumbar spine and prevent over extension. Then gently lean back as far as you comfortably can. Do 10 reps once or twice a day.
If you want more tips like these or are looking for help reaching your fitness goals, talk our exercise specialist today! 320-253-5650